Connect your TP-Link Kasa Device to Amazon Alexa
In below we use an Android smartphone as example. For iOS it's almost the same.
Before we start:
Control operation of TP-Link Kasa devices on Alexa is based on Kasa App so before we start to add the devices, make sure we can use Kasa App to control the Kasa devices locally and remotely.
Open the Kasa App and sign into your account. If you don't have an account yet, please register one refer to FAQ-948.
Connect all your Kasa devices to home network via Kasa, refer to FAQ-1233. Only the devices under control of Kasa can we manage them via Alexa, so please make sure you can control all devices with Kasa.
Note: Remember to enable Remote Control on Kasa.
Connect Kasa device to Amazon Alexa
Open Alexa App, navigate to Home page, then tap the "3-lines" button to go to its Settings page.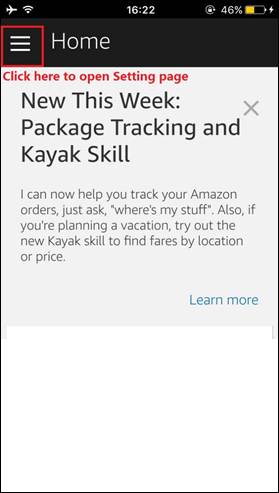 Tap "SMART HOME".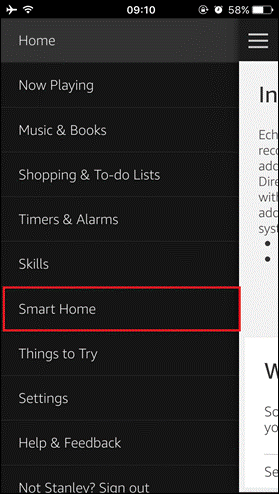 Tap "Get More Smart Home Skills" at the bottom to find Kasa skills.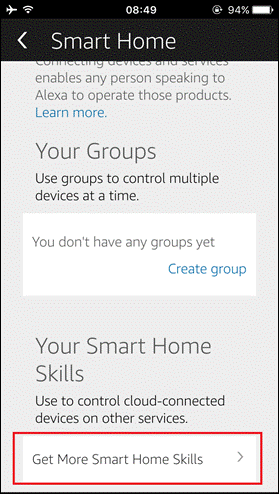 Enter "Kasa" in the search bar then you will find KASA App, enable it.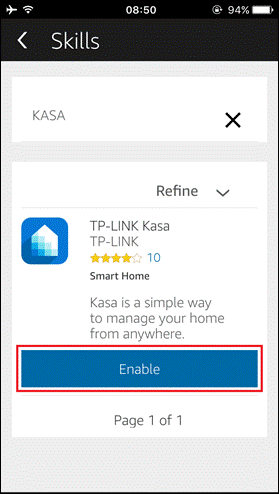 On the pop-up window please sign in your TP-Link Cloud Account (Also used in your Kasa APP).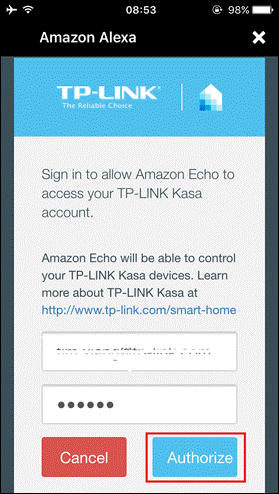 Click "Authorize" to link your TP-Link Cloud Account with Alexa. If you get the notification showed as below, that means you have already linked them successfully and you can leave this page.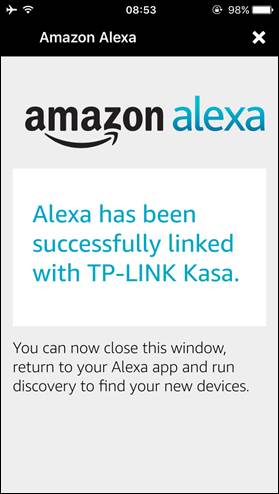 Next step to tap "Discover devices" so that Alexa will help to discover all Kasa devices.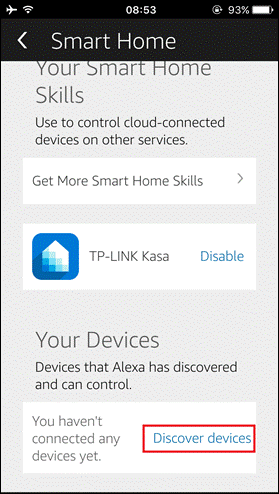 After a few seconds, your smart plug will be shown in your Devices list, now your Kasa devices have been successfully connected to Alexa.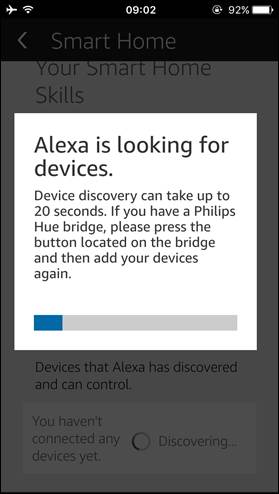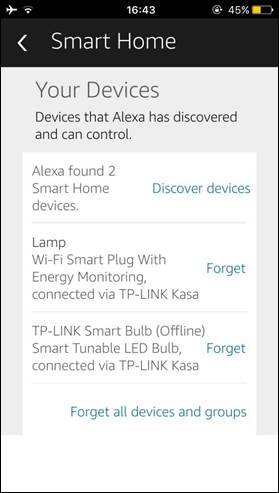 Test whether it works normally with the voice command on Alexa.
For example, if a bulb on Kasa is named after "Little Bulb", we can say "Alexa, turn on the Little Bulb" to see check if Alexa power this bulb.
Note: Every time you change the name of smart device, you are requested to discover this device again to update the name.
Troubleshooting
Alexa fails to discover devices, how can I do?
Check the indicator LED status on device's panel. If it's not green, that means wireless connection with router is lost. Please reconnect it.
Try if Kasa can control the device remotely. If not, that means the connection of device and cloud server is lost, you may need to check internet access and remote control settings.
Check if the account input in step 5 is correctly bound with the smart device on Kasa App. If not, please re-connect the device to Kasa again. Otherwise try to disable and re-enable Kasa skill according to step 4.
Why does the device status on Alexa show Offline?
Wireless connection between device and router is lost. You can judge from the indicator LED on the panel, green indicates connected and red indicates no connection.
Internet access of router is lost. Check your router to see if the WAN connection is disconnected.
Alexa has discovered the devices but couldn't manage them, while on Kasa App doesn't meet the problem. For this situation please contact support for help.
This Article Applies to:
HS200 , LB130 , HS100
Is this faq useful?
Your feedback helps improve this site.
User Application Requirement | Updated 08-16-2017 09:44:29 AM